Model AP-30 - Open Mouth System
Fill open mouth multiwall and plastic bags with fine powders and "sticky" high fat content materials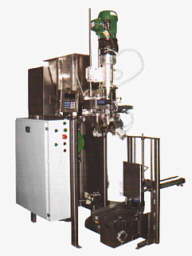 Shown with optional
SETTLER MECHANISM / AUTO BAG DISCHARGE
STANDARD FEATURES:
Stainless Steel contact plate work and mild steel frame.

Agitator Hopper Assembly.

Horizontal Auger designed for smooth and even material delivery into spout and bag with easy removable features for cleaning purposes.

Vertical Auger breaks up material insuring lump free filling and consistent accuracy.
OPTIONS:
PERFORMANCE
Performance is highly dependent on material flow characteristics, material feeding arrangements, bag size and machine operator.
PRODUCTION RATE - A Single machine can typically fill up to 8 BPM. Higher outputs/man-hour can be obtained with multiple installations.
ACCURACY -Accuracy tests performed on a well maintained machine, proper bag size, constant material head, will typically produce results of +50gm @ 2 sigma of the set minimum weight of 5 kg.
Weighing Mechanism is a single point load cell based scale system, digital weight indicator, key pad weight entry, two speed bulk and dribble feed product feed control.

Trim Weight is automatically adjusted by the digital weight indicator and weight compensation cycle.

Power supply 600 v / 3 ph / 60 Hz.
Other voltages are available.

Spout and Vertical Barrel easily removed for quick and efficient cleaning.

Drive Motors are 5 HP and 1 HP TEFC.

Electrical Panel completely wired and ready for single point hook-up to a fused power supply.

Duck Bill style bag holder for ease of bag placement, air operated.